This weekend was the Division III cross country national championship meet. Claudia Keep '15 qualified for the meet with an 8th place finish at the regional meet. The meet took place in Hanover, Indiana. Naturally, this called for a road trip.
Early Friday morning, 10 cross country athletes and one of our assistant coaches, Matt, piled into a van and set off for Indiana. The athletics department started a #CKeeprun hashtag and we proceeded to document our road trip through Twitter. Road trips, it turns out, are a great opportunity for napping and snacking, and as a result of this, practically every group photo we took includes someone asleep.
Exhibit A: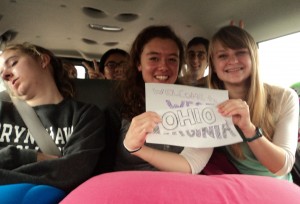 Sorry, guys.
The first day we drove through four states: Pennsylvania, West Virginia, Ohio and Indiana. Most of the states looked pretty much the same: vast fields punctuated by quaint towns along what seemed to be an endless stretch of highway. We found ways to spice the 12 hour drive up; with sing alongs and interactive games of candy crush (who knew it was a team game?), but it was, in truth, an incredibly long drive.
We stopped in Indianapolis for the night at a team member's aunt's house (shout out to Geri), where the highlights were her warm hospitality and her dogs. Geri owns a yellow lab, but also trains service dogs; and when we visited was in the process of training a 21-month old yellow lab named Harmony. Harmony is energetic and affectionate, and both dogs proved to be the exact outlet that 10 college girls (and Matt) needed to unwind after the long day.
The next morning we headed out to the course, a 2 hour drive from Indianapolis. There were hordes of fans already there, decked out in their school's colors. Some even arrived in full body paint, which on a windy day in Indiana was not the most comfortable attire. One team had even set up a teepee in a field directly across from the start. Spectating a cross country race is not for the unathletic. Because the race takes place over several miles of woods and fields, the spectators have to follow the athletes around the course, cutting corners to try and get to the next cheering spot before the runners. Which is a workout when you're trying to beat some of the fastest collegiate athletes in the nation. Basically what happens is as soon as the runners pass you, you and hundreds of other running enthusiasts, covered in body paint, wearing ridiculous outfits and carrying flags, sprint across a field, hoping to get to the next part of the course before everyone else so you can get a spot right up against the fence to cheer. Then the runners pass by again and you sprint to the next spot. And this continues for approximately 20 minutes.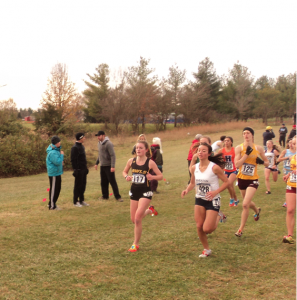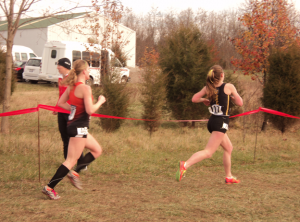 The other exciting thing about the meet was that I got to see not only Claudia run, but also my big sister, who runs for Williams College. She and her team ran to a second place finish overall, getting beat only by defending champions Johns Hopkins. Both Claudia and my sister had excellent races, and started practically next to each other, which was cool.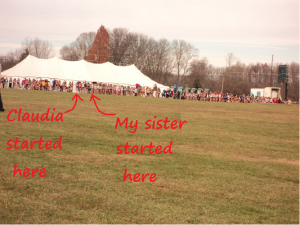 Once the race was over and we had said our congratulations, we got back on the road. The return trip was pretty rough. After getting stuck in standstill traffic—it took us two hours to go two miles—it started to snow rather heavily. This was exciting for my hellee, who is from California and had never seen snow before, but it was less exciting for the drivers. We made the best out of it, and played games to keep us entertained during the traffic jam, and I introduced my hellee to the art of rolling up snow and throwing it at people (as any good heller would).